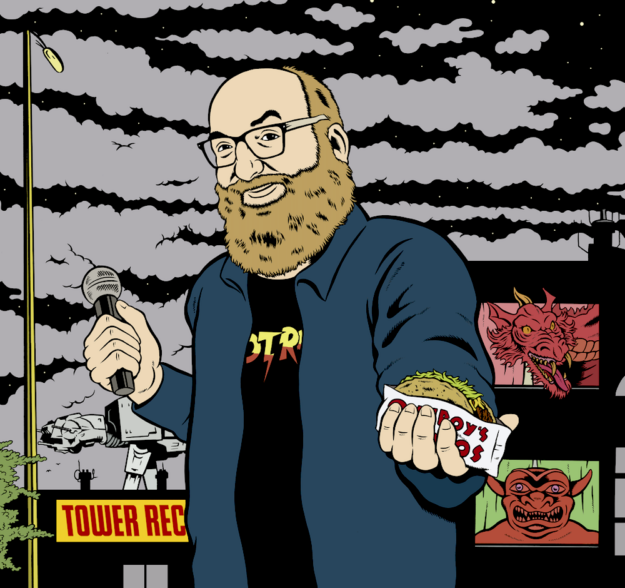 Jimboy's Tacos, Tower Records and Sunrise Mall. As Brian Posehn gets ready to take the stage at Punch Line and release a new special this December, the "forever nerdy" 6-foot-7 stand-up comic—who is also a proud metalhead and Dungeons & Dragons podcast host—shares tall tales (literally) from his childhood and how he got his comedy start right here in River City.
HILLARY LOUISE JOHNSON
Comedian Brian Posehn makes a memorable impression: he's 6-foot-7, with a wild salt-and-chili-pepper beard and thick black-rimmed glasses, and when you see him, you will no doubt involuntarily exclaim, "Oh that guy!" because he has appeared as that guy in seemingly almost every quality sitcom made since the '90s: Friends, Seinfeld, Just Shoot Me, Everybody Loves Raymond, The Simpsons, The Sarah Silverman Program and, most recognizably, as geologist Bert Kibbler on The Big Bang Theory.
"Which shows am I forgetting?" I ask when he Zooms in from his home in Los Angeles in mid-September, fresh off a set of stand-up tour dates. He's sitting at a desk in his office, a pinball machine glimpsable in the background along with posters for Friday the 13th (he's a horror fan) and 2015's Uncle Nick, in which he starred as the titular pervy uncle home for Christmas.
"I can name the ones I wasn't on," he suggests instead, an approach that would certainly be faster. "Why didn't I get to do The Office? Parks and Rec?" he wonders, shaking his head, pretending to be crest-fallen.' "I did everything else."
At 56, he has done a lot of other things too, in addition to sit-comming and stand-upping: He's co-written dozens of Deadpool comic books, put out an album titled Grandpa Metal, hosted a Dungeons & Dragons podcast called Nerd Poker over the past 10 years, penned a memoir titled Forever Nerdy, and been nominated for two Emmys, in 1998 and 1999, as a writer on the cult sketch comedy classic Mr. Show with Bob and David—that's Bob "Saul Goodman" Odenkirk and David "Tobias Fünke" Cross.
But before that, he was just a kid whose parents met cute. His mom was a "6-foot-tall pretty lady. She was in tall beauty pageants," he says. She met his even taller 6-foot-8 dad at a meeting of a club for the vertically advantaged called the Golden Gate Tip Toppers. "I had short friends in high school who would come over to my house when there were tall club meetings, and they would tell me it was the most surreal thing they'd ever seen in their lives, but I never knew any different. All of my mom's friends were 6 feet tall and really pretty and I just thought that was normal."
"How tall is your wife?" I wonder. Posehn is married to TV producer and talent manager Melanie Truhett and they have a 13-year-old son, Rhoads.
"Five-foot-two," he says. "She would tell you she's 5' 3", but she's full of it. She's not. My son's already 5' 6". He's going to be handsomely tall because she's really pretty; he's not going to be a Sasquatch like his dad. I married very well."
Posehn's father, who was born and bred in Sacramento, died when Brian was only 2, and his mother raised him in Sonoma, but he spent every summer with his paternal grandparents in Fair Oaks. "My grandpa Ed was a really cool old-school dude. He was a welder at McClellan Air Force Base," he says. "My grandma Claire was this tall Swedish lady. They had a VW bus and we went camping up and down the coast. I looked forward to it every summer, going to spend weeks with them in Fair Oaks at their nice little house, going to Sunrise Mall and seeing Herbie the Love Bug. My grandpa and I went to Jimboy's Tacos almost once a week."
At 19, Posehn went to live with them in their home off Winding Way after his mom kicked him out in 1985. "My mom went through hell with me," he says. "I was a smart kid who thought I was smarter than her." He winces. "I really hope I don't get karmically repaid for what I did to my mom."
"Grandpa Ed was a strict disciplinarian," he adds. "He was like, 'I've got this. I'm going to straighten him out.' And he did." Part of the reform program included working one or two jobs at a time. "I worked at every fast food restaurant in Fair Oaks and Citrus Heights. I worked at Sunrise Mall at a pizza place. I worked at the old Birdcage Walk Tower Records. I was the rap buyer," he says with a laugh. "It was weird to have this long-haired suburban kid as the rap buyer. That was such a cool store. I have nothing but great memories of that time. You know that movie Empire Records? It really was like that—just the coolest job with a bunch of cool people. They were the weird kids, like me; they weren't popular at their high school. There was a jazz guy. There was a girl who never wore shoes and just listened to hippie stuff. And then the white Rastafarian guy who just listened to reggae. I later lived with my Tower Records buddies in a smelly apartment in Carmichael, and I'm still friends with most of the Tower guys through Facebook."
Posehn went on to attend American River College, with the intention of enrolling at Sacramento State afterward. He flirted with the idea of becoming a journalist and wrote for the student newspaper. "But I took a break from school after winning a comedy competition in the quad of ARC in 1987," he says. "I still have the stub from the $50 check I won."
He was hooked. "I was obsessed with comedy," Posehn recalls. "I would stay up late watching HBO comedy specials." But while he admired comics like Sam Kinison and Eddie Murphy, he was put off by the prevalence of themes like misogyny and homophobia. "I liked how bombastic these guys were, but I'm a completely different person. I was never the kind of guy who could make fun of other people. And I also felt like I had been picked on and that kind of made me go, 'Hey, look, I'm smarter and funnier than any of the dudes that made fun of me. I'm going to pick on myself and I'm going to say sh-t about myself that no one would ever think of.' Self-deprecation made more sense. So I just was super honest about myself." In his 2018 memoir, Forever Nerdy: Living My Dorky Dreams and Staying Metal, Posehn described a childhood incident in which other kids threw clods of dirt at him and jeered. (Sarah Silverman, in an uncharacteristic moment of disarming sincerity called the book, "a memoir about being brave enough to take your torture and find a way to make it your bliss.")
Posehn's first-ever stand-up set was at an open mic night at the underground Metro Bar & Grill on K Street. He spent half a year honing his "tight ten" (10-minute set) while he waited to turn 21 so he could get in the door. When he did, he and his good friend Glen, who worked with Posehn variously at Steve's Pizza, Rico's Italian Pizza and McDonald's, "drove our Volkswagen Bug downtown and we had a couple of beers in the parking lot before I could get my courage up to go do this weird thing for the first time. The first time I went on stage, I loved it. And here I am."
He still remembers the bit that killed. "I was playing the suburban stoner character, like a Bill & Tedkind of guy. It wasn't necessarily who I really was. One of the best jokes I wrote back then was, 'People think I do drugs, but I don't. My parents did, so I pretty much don't have to. I get flashbacks from sh-t I never did.' Which wasn't true. My mom wasn't a druggie. But in the beginning, it was that joke, and like whatever was big in 1987—there was a Michael Jackson joke, a Madonna joke."
After that night, Posehn started trying to get on stage as much as he could. "Metro was my regular club, but I also performed at both Laughs Unlimited locations," he says of the Old Sacramento spot and erstwhile Citrus Heights offshoot. "I would do sets anywhere and everywhere—the Graduate by Sac State and the UC Davis location had a comedy night I did a handful of times. But I would show up at any open mic or comedy night I heard about in town and traveled from Chico to Placerville."
After his grandfather died in 1991, Posehn moved to San Francisco, where he shared an apartment with comedian Patton Oswalt. "Meeting Brian was like meeting the brother my parents had kept locked in the attic [who] had spent all of his time reading murder mags and listening to metal," Oswalt says. "Nothing made me funnier faster than knowing him."
By the time Posehn moved to Los Angeles in 1993 and started acting, the stage persona was fully developed, and his jokes were about being a nerd who plays Dungeons & Dragons, listens to heavy metal and watches a lot of Star Wars (a pinch-me moment for him was getting a chance to make a cameo in the pilot episode of The Mandalorian). He even eats Nerds (the candy). Fellow stand-up and podcaster Marc Maron once called him "a definer of the comedy nerd paradigm."
Posehn jokes about being the kind of rabid music fan who makes musicians want to quit the business (the antithesis of the hot groupie), but he has made friends with some of his heavy metal idols and even induced them to play on a comedy music album he put together at the beginning of the pandemic (hat tip to Weird Al, who puts in an appearance). Grandpa Metal features guest appearances by members of A-list bands like Anthrax and Fall Out Boy and includes a cover of A-Ha's "Take on Me."
When Posehn tours, he'll often hit the road with Sacramento boxer-turned-comedian Johnny Taylor Jr. as an opening act, including for his upcoming Sacramento show at Punch Line in Arden-Arcade. Taylor's first-ever stand-up set, nine years ago, was opening for Posehn there. Since then, they've become fast friends, bonding over fried chicken at the recently closed South, grabbing breakfast sandwiches at Camellia Coffee or shopping for used vinyl at MediumRare Records in the WAL Public Market on R Street when Posehn is in town, which is about once a year. "He doesn't have to come to Sac," Taylor says. "He likes coming here. I think it makes him nostalgic."
Taylor identifies a certain quality Posehn possesses that sets him apart while still marking him as a local. "Brian has a real deliberate delivery, which I think is a trait of Sacramento comics," he says. "They're not always yelling—they want you to listen. They draw you in."
When Posehn performs at Punch Line from Dec. 1-3, it will just be days before the release of his new Posehna Non Grata comedy special, which will premiere on the Moment streaming service on Dec. 6 before expanding to other platforms like Amazon Prime Video and YouTube. Needless to say, he will be, of course, extremely grata in his adopted hometown.
"It still feels partially like home up there," he says. "I have friends who are there. I just did San Francisco shows and it felt like homecoming all weekend. I had somebody there to see me every show. And the same thing happens in Sacramento where somebody from Tower will come or somebody I went to high school with because a lot of guys I knew from Sonoma wound up in Sacramento somehow. So it's always fun."